Equator 2.0 offers an essentially neutral performance with none of the exaggerated treble detail frequently found at this price point.
Equator is well suited as an upgrade for mid-level or older audio systems in need of a little 'TLC.'

Atlas Equator 2.0 is a 2mm² cable using OFC (Oxygen Free Copper) conductors contained in a high-density PEF dielectric (insulation layer) that's far more efficient than PVC or polyethylene. The superior dielectric offers both a better measured performance and an audible improvement in dynamics. The core assemblies are contained in a cotton yarn in order to reduce microphony and the outer sheath is in a pearl white finish. Our latest-generation Achromatic Z-plug is a proprietary low-mass, self-cleaning, precision-crimped (cold-weld) speaker connector fitted as standard. These cables are also available terminated with our cold-weld high quality OFC spades.

Reviewed & Recommended By: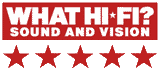 Features
Connector Type - Achromatic Z Plug

Atlas' proprietary Beryllium Achromatic Z Plug is a low-mass, self-cleaning, solder-free construction speaker plug. These cables can also be supplied with an OFC spade tag option at one or both ends, please contact us for this option

Conductor Material - OFC

OFC (Oxygen Free Copper) was developed based on research that sound quality was related to the quality of copper and the processing used during cable manufacture. Explore More.

Dielectric Material - PEF

Microporous PTFE (Teflon™) is a unique, low density dielectric material, phase stable at room temperature, which offers significant performance improvements over solid PTFE (Teflon™) dielectric designs.  Explore more.


 





Construction - Twin-core round

A pair of identically matched conductors (one for signal path, the other acts as the return conductor) enclosed within a protective round PVC sheath.

Specifications
| | |
| --- | --- |
| Construction | Twin-core round |
| Material | OFC |
| Dielectric | PEF |
| Screen | None |
| Capacitance | 70.51 pF/m |
| Inductance | 0.816 µH/m |
| Resistance | 0.0094 Ohms/m |
| VOP | 0.73 |
| Outside Diameter | 8.5mm |
| Warranty | 5 Years |
Free Delivery
Free 3-5 day delivery on all orders within the UK with no minimum spend
12 Month Guarantee
12 month guarantee on all products for your peace of mind
Best price promise
We beat or match any price on the whole range at Joe Audio